Klezmania for Private Functions
Klezmania at your wedding reception
or other event
In the past, clients have chosen to use us:
as the sole band for smaller, more intimate gatherings up to around 150 guests,
in expanded line-ups with added drums, frontline singer, violin etc for larger celebrations
as the "foyer" band as guests arrive,
as the band providing the Jewish hora dance brackets before handing over to a larger band or DJ
but there have been other creative ideas and we are open to any your imagination conjures up.

Give your chuppah or wedding ceremony a special atmosphere with music mingling amongst your guests as they arrive, escorting you down the aisle and creating that sense of occasion after the ceremony concludes.

Whether its at a reception venue, at home, in a garden, a country property or any other location, Klezmania can bring our special brand of Jewish music to your wedding.



Jewish music at your family's barmitzvah or batmitzvah

For that traditional Jewish sound at your family's simcha, we bring the ruach and yiddishkeit that marks this special event.

The music



At private functions we generally present as a Trio. Our main instruments here are Clarinet, Guitar and Double Bass with a sprinkle of saxophone, harmonica, and of course, all three of us sing covering a variety of styles and genres.

By special arrangement, and especially for larger events we can expand the band to include other instruments such as drums, violin, accordion, keyboard, and others.

We play/sing Jewish material:
Hora dancing,
Background music,
old Yiddish folk favourites,
klezmer instrumentals,
Yiddish Swing and Yiddish Theater songs,
Hebrew/Israeli
Ladino tunes
and other styles such as:
French,
Gypsy Jazz,
Russian,
Latin (Cha Cha, Samba, Rhumba),
Bossanova, Swing,
Waltzes,
slow "cheek to cheek" dance.
Classic Rock 'n' Roll,
and a sprinkling of more modern hits
Audio Samples For Celebrations and Receptions


Klezmania has a proud history of making parties and celebrations memorable for the last 17 years. We are happy to discuss your function with you to assess our suitability for your plans. We only want to take the bookings we believe we can fulfil successfully. That way it works best for you, and we leave a lasting positive impression.
Whatever ideas or requests you may have, feel free to talk with us about them. Clients who don't have the resources of a hired event co-ordinator are welcome to pick our brains, drawing on our experience of hundreds of events. In the last weeks as you are formalising your running order, talk to us and use our knowledge to fine-tune your plans.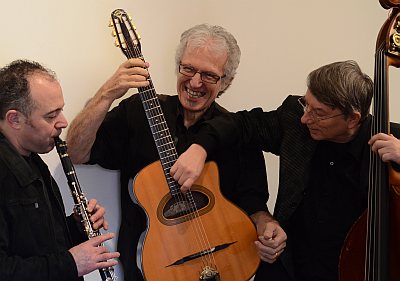 Klezmania in Trio format commonly seen at a Chuppah or smaller event.
Contact Us for a preliminary conversation or quote



Main Page Gigs Recordings Quotes News Contact Us Links Reviews Myspace